Adding a magical touch of luxury to your wedding day look, look no further than pearl nails! As you start planning the details for one of the most special days of your life, every aspect must reflect the style and grace that this momentous occasion deserves. Pearl nails shine with a subtle elegance – their natural luster inspired by an element from nature – making them perfect for just about any bride-to-be. Whether you choose classic white pearls or something more adventurous in a pop of color, these trendy nail ideas are sure to give you stunning results worthy enough for your walk down the aisle. So get ready to create ultra chic nails on your big day!
Get inspired for your wedding with these unexpected pearl nail ideas
From romantic neutrals to statement-making blues, you'll be sure to find an idea that suits your style. Start by selecting a pearl shade and then let the creativity take over with intricate designs and unexpected accents.
Try a neutral pearl shade like champagne or rose gold for a classic look for your manicure and pedicure. You can dress up this simple look with delicate floral details or lace patterns for an added touch of romance. For something more daring, opt for bolder shades like navy blue or emerald green in combination with either metallic or matte accents. Whether you choose monochromatic hues or combine several colors into an eye-catching design, pearlescent nails are sure to make any bride shine.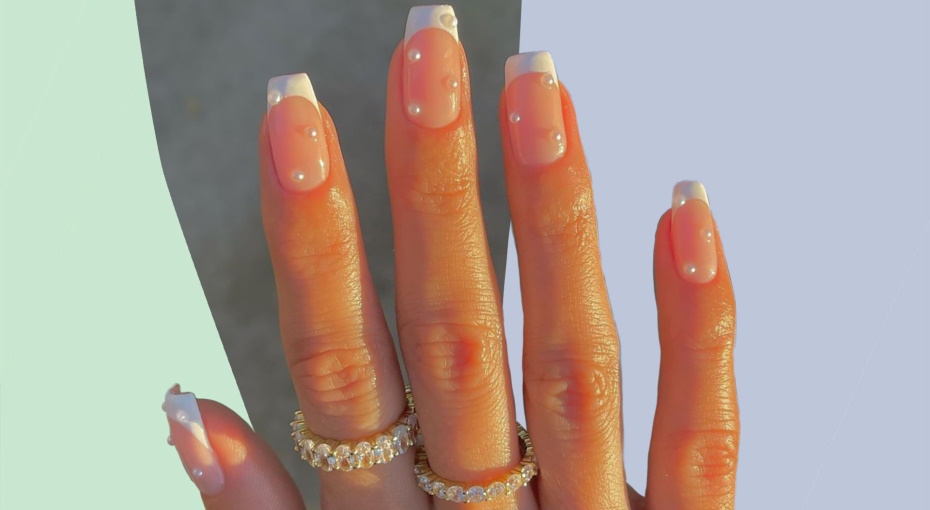 If you're looking for a timeless look, you can try an ombre effect by fading pearl shades from one end of the nail to the other. Or, go for a unique twist on classic French tips with contrasting colors and pearlescent accents. If you want to stand out at your wedding, opt for statement-making details like bold glitter and jewels or 3D motifs like bows or stars. No matter what design you choose, pearl nails are sure to give any bride a beautiful finishing touch.
With so many creative designs available, you'll have no trouble finding an unexpected yet elegant way to make your special day extra special. Get inspired for your wedding with these unexpected pearl nail ideas and enjoy a look that will truly shine.
Create sparkling style on your special day with these stunning pearl wedding nail ideas
From modern to classic designs, these ideas will be sure to give you the perfect manicure for your wedding day. Whether you want a subtle shimmer or something more dramatic, there's a pearl nail look just for you!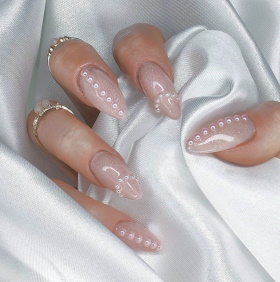 Consider going for a single pearl accent on each nail for an understated and elegant look. A small pearl next to the cuticle is all it takes to add a touch of glamour to your wedding nails. If one pearl isn't enough, try go with two pearls in different sizes instead – this creates depth and contrast against the other colors in your manicure.
If you want something more eye-catching, opt for half-moon style tips adorned with glossy pearls. This look can be achieved with two coats of white polish and a single pearl on the bottom half of your nail bed. You can also switch it up by adding pearls in different sizes or colors for an ultra-glam effect.
Go for a full glam, glittery look with ombre pearl nails. Create an ombre effect on each nail using different hues of glitter and then add a few strategically placed pearls to complete the look. If you want to stay classic, try nudes and champagne hues paired with white pearls – this is sure to create a timeless style that won't overpower your gown or accessories.
No matter what kind of look you're going for, there are plenty of stylish and sophisticated pearl wedding nail ideas to choose from. So get ready to shine on your big day!
Finally, remember that with these pearl wedding nail ideas, you can customize them to match your dress or the theme of the wedding, making it truly unique. Don't be afraid to ask your manicurist for help in choosing colors and designs that will make you feel like a princess on your special day. With the right design, everyone will be looking at how beautiful and modern your nails look!