We all know that having an amazing wedding album filled with sentimental pictures is a must! But what if you could make your special day even more unique and memorable by inviting guests to take some photos for you? Sounds cool, right? Guest photography at weddings can be an incredibly powerful tool and can help create beautiful memories that will last a lifetime. In this blog post, we'll discuss the advantages of using guest photography at your wedding, including how it adds creativity, brings out people's personalities, offers moments that the bride and groom may not witness themselves, provides an opportunity for contribution from family or friends who were unable to attend in person — plus so much more. So let's get into it!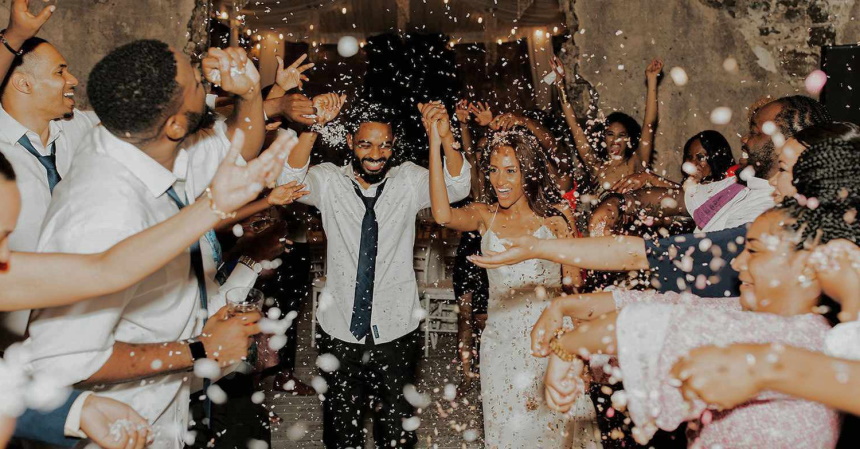 Capturing memorable moments with your guests – tips for improving your wedding photos
Choose a photographer that suits your style: Choosing the right wedding photographer is essential to ensure you have beautiful photos that capture your special day. Take time to look at different photographers' portfolios and get an idea of their style and approach.
Communicate desired poses beforehand: Before the big day arrives, talk to your photographer about any specific poses or shots you would like captured throughout the event. This will help ensure that special moments are not overlooked when taking photos!
Use natural light: Natural light is one of the most important aspects of photography, especially for weddings. Take advantage of natural lighting (especially during golden hour!) to give your photos a beautiful and natural look.
Incorporate candid shots: Candid shots are an excellent way to capture precious moments without interrupting the event. Ask your photographer to take some candid shots of you and your guests throughout the day as they interact with each other and enjoy the festivities.
Give yourself plenty of time: Try to plan ahead so that you have plenty of time for taking pictures during the wedding. This will help ensure that even if something unexpected happens, there's still enough time to get all of the important photos taken before it's too late!
Set up a photo booth or props: Adding props or setting up a photo booth can be a fun way to get your guests involved in the photography process. Give your guests a chance to show off their creativity and have some fun with the photo booth!
Choose an ideal location: Choosing an ideal location is key when taking memorable photos. Try to pick a spot with beautiful scenery or lighting and one that will be convenient for all of your guests.
Ask people to cooperate: When it's time to take pictures, ask your friends and family members to cooperate and follow instructions from the photographer. This will help ensure that everyone looks their best in the photos!
Capture special moments: Don't forget to capture those once in a lifetime moments, like your first dance or cutting the cake. These are the kinds of photos that you'll look back on for years to come and treasure!
Have fun: Above all else, make sure you have fun with your wedding photos. This is a special day for everyone involved, so don't forget to enjoy it and be present in each moment as it happens.

Expert tips for wedding guest photographer etiquette
Before the wedding, ask the couple if they have any wishes for the photographs. Respect their wishes and avoid any pictures that might be intrusive or embarrassing.
Always ask permission before taking close-up photos of people other than the couple, especially if you plan to post them on social media or share them in a public way. It's important to respect others' privacy as well as that of the bride and groom.
Even though everyone is there to celebrate and have fun, it's still important to remember your manners when photographing a wedding – no flash photography during ceremony speeches or formalities, no running around while guests are eating dinner, etc.
Don't forget to take plenty of candid shots as well! Look for moments between family members, friends talking and laughing, or quiet reflections.
Unless you are asked to photograph the bride and groom in a more formal fashion, try to remain out of sight while taking photos – this will help keep their special day feeling intimate.
If a professional photographer is present, check with them before taking any posed photographs that may interfere with their work.
Be aware of your surroundings when shooting outdoors – not only can wind affect the quality of your photography but natural elements like bright sunlight or rain could also make it difficult for you to capture good images.
Have fun with it! Weddings are a time to let loose, so don't be afraid to capture some funny, creative shots. Just ensure you do so without disturbing or taking away from the couple's day.
Back up your photos on an external device or in cloud storage as soon as possible after the wedding – you never know when a computer crash could erase all the memories!
Share only images that the bride and groom have approved – they should always have control over how their big day is represented online.
By following these tips, you can ensure that your photography reflects thoughtful consideration of both the couple and their guests while capturing beautiful moments from their special day.
By volunteering to take photos at a wedding, you are helping the couple capture memories from one of the most important days of their lives – so make sure that your work reflects that! With these etiquette tips for wedding guest photographers, you can have fun with your photography while still providing quality results and making sure all involved enjoy the day.