Are you dreaming of looking like a beautiful princess walking down the aisle on your special day? One way to create a stunning and unique bridal look is with wedding hair vines. Hair vines, also known as floral wreaths or headpieces, are becoming more popular amongst brides in recent years due to their incredible versatility. Whether you choose an elaborate design that reaches up into hair twists or subtle and dainty spirals catching just a few pieces of your locks, there's something incredibly captivating about adding one of these gorgeous accessories to your hairstyle gives it extra glamour and charm. Today, we're going to showcase some breathtakingly breathtaking bridal hair veils inspired by flowers and greenery that will undoubtedly bring out the full beauty of any bride's 'do!
Guide to choosing the perfect bridal hair vine for your wedding hairstyle
When it comes to wearing a hair vine on your wedding day, there are so many options out there that it can be overwhelming! The key to finding the perfect bridal hair vine for you is determining what kind of look you want. A classic pearl and crystal headpiece will offer timeless elegance, while a modern rhinestone or freshwater pearl hair vine adds some extra sparkle. You may also want to consider a vintage-inspired piece with intricate beading for an Old Hollywood glamour feel. Once you know the type of style you're after, you can start narrowing down which bridal hair vines will work best with your hairstyle.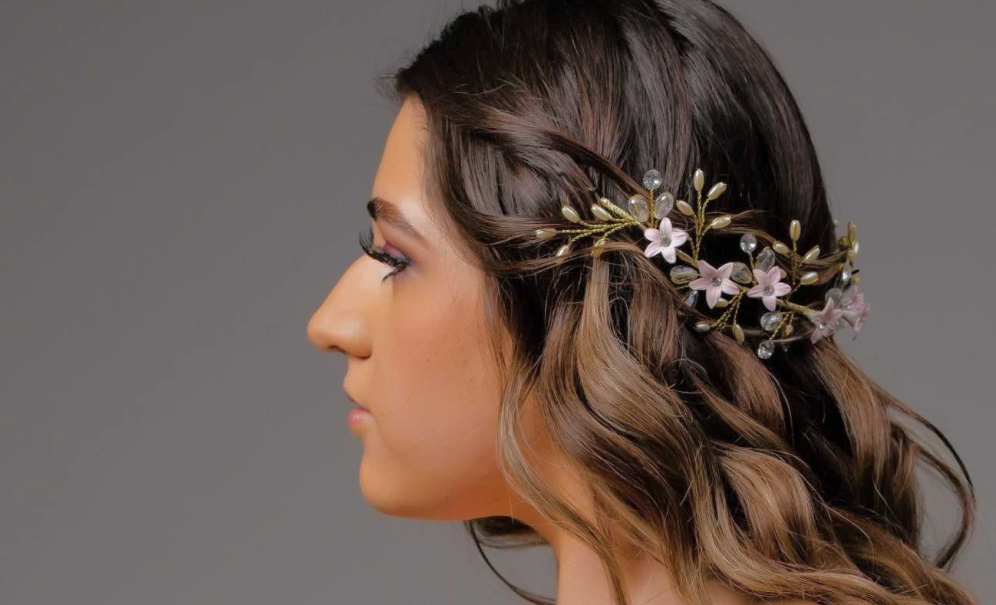 Smaller and simpler hair vines are usually best for an up do such as a bun, chignon or French twist. These delicate pieces can be tucked in at the nape of your neck or along the sides of your bun to create a romantic finishing touch. If you're wearing half-up half-down hairstyle such as beachy waves with half-up curls, you can choose from longer and more ornate hair vines that will dangle across your head for a bold statement effect.
No matter which style of bridal hair vine you choose, ensure it complements your wedding dress and overall look. For example, a classic pearl piece looks beautiful with a traditional white gown, while an eclectic rhinestone design is perfect for boho brides. Don't forget about color – if you have a bold wedding color scheme, consider having a hair vine hand-painted to match.
Most importantly, pick something that helps you feel beautiful and confident on your special day! With so many gorgeous options out there, you're sure to find the perfect bridal hair vine for your wedding hairstyle.
The definitive guide to bridal hair vines – styling tips and inspiration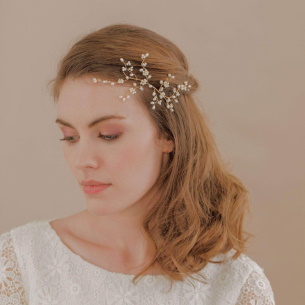 Bridal hair vines are a great way to add a subtle touch of glamour to your bridal look. Whether you're looking for something delicate and romantic or bold and statement-making, there is an option that will work with your hairstyle – often without the need for any additional accessories.
When selecting a hair vine, think about the overall effect you want to create. For example, if you're wearing a classic white dress, pairing it with a more traditional pearl or crystal hair vine can help to create an elegant, timeless look. However, for those who prefer something more modern and on-trend, consider experimenting with pieces featuring intricate beadwork or abstract shapes.
When it comes time to style the hair vine, consider your hairstyle – it should fit comfortably and look natural when combined with your hair. Try weaving the vine in and out of an up-do or French twist for a traditional style. If you'd prefer something more relaxed for a boho-chic look, looping the vine around the bun section can enhance a simple half-up style.
Finally, secure the ends of your hair vine at either side of your head with grips or pins to ensure it stays in place all day. Then, when choosing how to finish off the look, ask yourself what will best complete your outfit – perhaps some pearl earrings or bold lip color? The possibilities are endless!