When selecting the perfect hairstyle for your wedding day, nothing matters more than finding a look that complements your beautiful dress. With countless updo and down-do options, deciding on one might seem overwhelming – but don't worry! We're here to show you how to find the right 'do for whatever type of gown you have chosen. In this guide, we demystify the intimidating process of styling hair around necklines and silhouettes while providing essential tips on accessories so you can confidently rock one of these stunning bridal looks. So join us as we explore what it takes to create picture-perfect wedding styles, from A-line dresses to ball gowns.
How to choose the perfect hairstyle for every wedding dress type
Choosing the perfect hairstyle for your wedding day is an important part of getting ready for the special occasion. Every wedding dress has its unique style and shape, so selecting a hairstyle to complement it can be tricky. Here are some tips on how to choose the best hairstyle for each dressing type:
A-Line Dresses: A classic A-line silhouette is flattering on many body types and lends itself well to most hairstyles. For those who like a more polished look, an updo with twists or braids can give you an elegant look. Loose waves also work well with this classic shape and add a bit of drama to the overall outfit.
Mermaid/Trumpet Style Dresses: These dresses are often more fitted and can give you a glamorous look. Opt for loose curls cascading down your back or an updo with some height to create a beautiful contrast. Soft braids and side-swept bangs can also work well with this silhouette.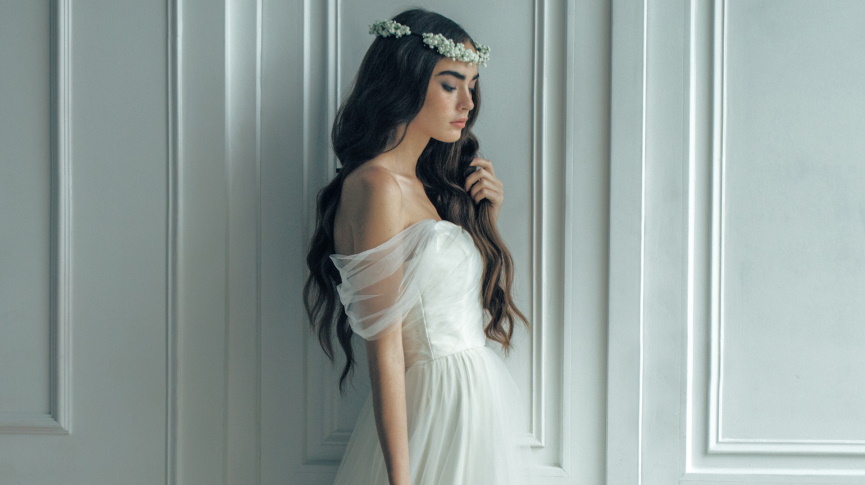 Ball Gown/Princess Style Dresses: This look is perfect for those who want to channel their inner princess on their wedding day! A voluminous ball gown looks best when paired with an equally statement-making hairstyle, such as soft waves that hit below the shoulders or an intricate braid tiara.
Off-the-Shoulder Dresses: Showing off your neck and shoulders is always beautiful, so create an updo that will draw attention to your features. A half-up, half-down hairstyle looks great with this neckline and can be dressed with sparkly pins or accessories.
Backless Dresses: A backless gown is a perfect opportunity to show off some stunning hair artistry! Choose an intricate braided look that wraps around the top of your head and cascades down in delicate curls or twists. Or opt for a sleek bun with pieces left loose around the face for a soft, romantic feel.
No matter what type of dress you choose, there's sure to be a hairstyle that complements it perfectly! With these tips in mind, you should have no trouble finding the perfect hairstyle for your special day.
The perfect combination of bridal hair and wedding dress style
With the right advice and tips, you can achieve a look that is both timeless and beautiful. One of the biggest trends in bridal hair today is pairing natural-looking curls or waves with a modern dress style. This creates an effortless yet polished look that will flatter any face shape or skin tone. If you are looking for something more formal, try adding some texture to either an updo or half up/half down hairstyle by using braids or twists. You can also pair sleek straight hair with intricate jewelry pieces for a classic and glamorous touch. Whatever your preference may be, make sure your chosen style fits not just your face but also the overall vibe of your wedding day. With these tips, you can be sure to achieve a bridal look that is uniquely yours and will last through your big day.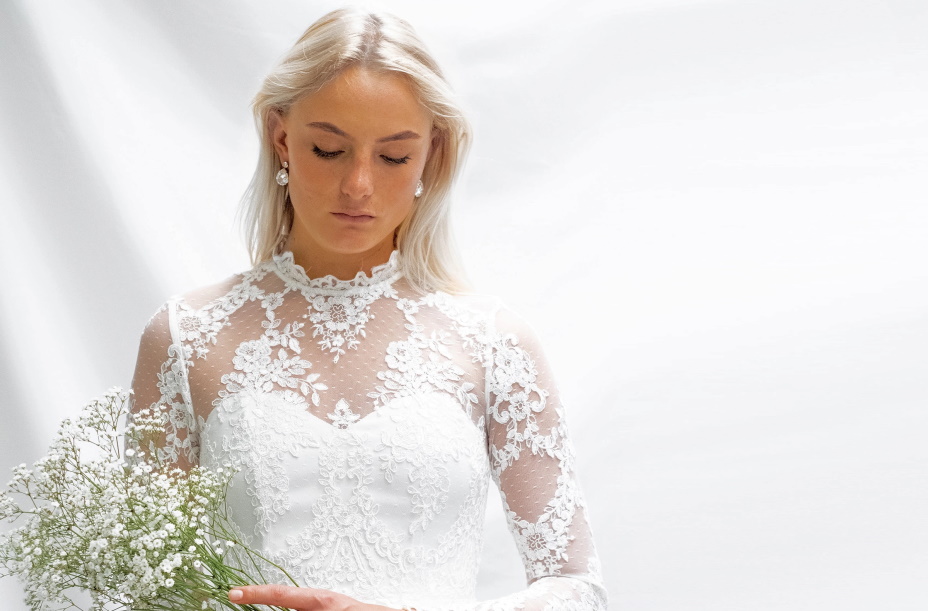 No matter what style of wedding dress you choose, it's important to find the perfect hairstyle to match. Consider the shape of your face and the silhouette of your gown when selecting the right hairdo for your special day. A timeless updo or classic half-up/half-down look are always popular options for brides on their wedding day. For an elegant touch, consider adding some intricate braids or twisting pieces into your chosen hairstyle. For a more modern take, try pairing sleek straight hair with statement accessories or experimenting with striking color accents. With these looks, you can create something truly memorable and unique for your special day.
Finding the ideal balance between bridal hair and wedding dress style can be difficult, but with some research and guidance, you can discover a look that is perfect for you. Whether it's an effortless updo or something more formal, make sure to pick a hairstyle that will last throughout the entire day. With these tips in mind, you can be sure to find the perfect combination of bridal hair and wedding dress style that will make your special day even more memorable.